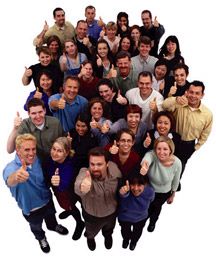 Erik,
I just took all the materials you printed for LifeWalk to a meeting with some of our church leaders and everyone was really impressed with the job you did. The quality was even better than anticipated. Thank you so much for that.
You guys did a great job!!
We look forward to having you handle all our church's printing needs!!
Thank you again for a job really well done.
Have an awesome Easter!
Jenifer
---
Dear Erik,
I just wanted to drop you a short note to thank you and Jarrod for getting the printing for my client done so quickly.
They were so thrilled to receive everything yesterday and are very pleased with the finished product.
I am anxious to see the final product. It was a pleasure working with you on this project and I look forward to working on more projects in the future.
Debbie
Creative-Sparx Design
---
Erik,
The Fortis S&V cards for George & Ken are amazing! Absolutely wonderful job, they are so attractive and outstanding! Please pass on to David!
Lauren Zuchowics
---
Hey Erik,
I got your brochures this morning, thanks again for delivering them. They look excellent!
Jeff Jones
CFP®
---
Erik,
The lovely brochures you printed for us were eye-catching and appreciated by all the visitors to out recent exhibit. They really captured the romance and fun of travel, while conveying the finer points of our services.
We will be sure to use Minuteman Press again for the quality of the product and the personal attention we received.
Many thanks!
Christine Whirlow
LC Travel Consultants
---
THANK YOU ERIK!
We appreciate the team work.
You are the best!
Sandi Ryan
---
Erik,
Thanks for the outstanding service you provided yesterday to get business cards for one of our new docs. I appreciate it and will definitely keep you company in mind in the future.
Melanie Pirollo
Director Cancer Services
---
Erik,
We just recieved the letterhead; it looks AMAZING!
Thank you so much for providing us with such a quality product and t such a great price!
David Crespi
Management Trainee
---
I was in a time-crunch and needed business cards quickly & and the staff at Minuteman Press not only met my deadline, but went out of their way to provide exceptional service!
Nicole Baselice
Ultimate Tech Time
---
Good afternoon Erik.
I just want to thank you and let you know that the banner stands look great and definitely catch people's attention. I appreciate your help with expediting the order and the short turnaround. Thanks a ton.
Jaya Velpuri, Ph.D., CCAP