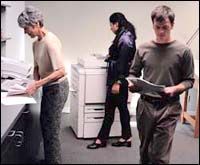 About Us:
Here at Minuteman Press we offer multiple services to anybody in need of promotional material, advertising, or looking to get their name out in the world.  If there's one thing we've learned over the years, it's that no amount of technology can replace the human touch. That's why we hire only the most qualified individuals to serve on our team. We look for people that share our philosophy that your business is our business.
Our team of diversely skilled professionals continually push themselves to learn and evolve so that we may help you conquer each new challenge on the road to success. Every person on our staff is committed to providing you with the best possible customer service and the highest-quality products. This commitment is reflected in everything we do.  Below is a list of all of the services we provide, if you are interested in having any of these done for you please click the link attached and you will be brought to the page for that service.  If you have any questions please feel free to visit our contact page, email us, or call us at (856) 232-7700.
Services We Provide:
Still are unsure what to look for?  Click here to view the full catalog of items that Minuteman Press can help you with.